I finished my first Ironman back in 2011 and since then I have become somewhat obsessed with this sport. Fortunately, I happen to be married to the most supportive wife. Camilla has put up with a lot, and encouraged me through all the highs and lows over the past few years. And my wonderful children Sadie and Isla believe in me more than I could ever believe in myself. Their support and motivation has been the foundation of my success.
I have also been lucky to work and train with some of the most talented coaches, mentors and athletes on my journey. I've created lifelong friendships through various training camps, races and clubs. This sport is something you do on your own, but it cant be done alone, you can't figure it out yourself. Every single person I've had the opportunity to hang out with these past few years has taught me something and helped me along the way.
Finally, after years of hard work, consistency, and a bit of good luck, I have achieved my goal of qualifying for the Ironman World Championship in Kona for October 2020.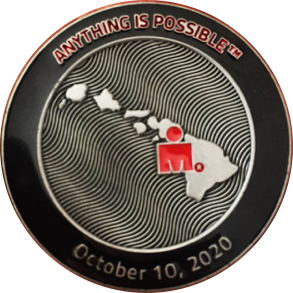 Throughout the race in Italy my mind was full of love and gratitude. I was present in the moment. That is what kept me going and took me to the finish line with a smile. Of course all the swim, bike, run training is a minimum requirement. But once you can get your head in the right place then the body will follow.
An arrow can only be shot by pulling backward. So when life is dragging you back with difficulties, it means that it's going to launch you into something great. So just focus, and keep aiming.
I read that quote just before my race and it really struck a chord with me. There is no good or bad. This is all experience.
Thanks Camilla, Sadie, Isla and everyone else that helped me along this journey - love ya all 😘✌️😎🤙