Its been 4 days since I crossed the line on the Promenade des Anglais and I still cant quite believe it is all over. This was my first attempt at an Iron distance triathlon and was certainly tougher than I had ever expected.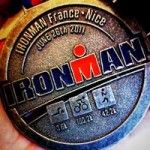 I started training at the beginning of November 2010, but was already averaging around 8-10 hours a week before this on the back of training for a half IM in September (the Vitruvian, another great race). The Don Fink plan is a great program and I followed it religiously until mid March. Eventually with work and life realities hitting home I couldn't justify spending so much time training and so although I stuck with as much of the program as possible I probably was closer to the intermediate plan than the competitive by the end. In the build up I completed the Reading Half marathon in Feb in 1:27 and the Marshman Half IM in May in 4:43. I felt confident that I was getting in shape but having never run a marathon I knew the step up to this distance was going to be a big leap.
I stayed at the ETAP hotel Lenval, its located about halfway along the run loop and out of the main hustle of the Expo. The room was basic but all I needed during my stay, the aircon wasn't great which was the only problem as it was pretty hot and uncomfortable and in hindsight it was probably a little too far from the action as I spent the Friday and Saturday wondering up and down the Promenade which was probably not such a good idea.
On Saturday I racked my bike at 5pm, the transition area was huge and there was a lot of bike bling on show. This display of seriously expensive bikes and lean athletes really made me question what on earth I was doing here, but most people were friendly enough and it was incredible to witness the enormity of this event for the first time.
I set my alarm for 3.30am, and another one for 3.35 just in case, however I was actually awake from about 2am with anticipation of the day. I don't think I ever felt nervous, sure I was a little anxious but not in a bad way, just fearful of the unknown. I cooked up some porridge in my room and sipped on some energy drink until it was time to start walking down to the start. As we left the hotel we were greeted by a group of prostitutes and I don't know who was more surprised. Further down the road people were cuing to get in to a night club and I wondered if I had the wrong day, but as we got closer to the start more and more people with orange wristbands were appearing.
I got to T1 at around 5.15, pumped up my tyres, set up my drinks and wondered over to the finish line to try and relax before popping on my wetsuit. Whilst I was running through my race plan in my head, Fredrick Van Lierde appeared with his entourage. He was warming up with a run and looked like an absolute machine, its no wonder he went on to win the race as he is really on form this year.
Soon it was time to don the wetsuit and head down to the swim start, where to start though? The beach was divided into pens with various times estimated on what your predicted swim time would be. I had read somewhere that by starting in a pen that was a little slower than your predicted time would mean you could sprint past a few people and find clear water pretty quick - how wrong was that! I placed myself in the 1:18 pen with an aim of swimming 1:05 and hoping secretly to break an hour. At 6.30 everyone started pushing forwards into the water and the fight began. I have spent months reading, practicing and thinking about my technique in a bid to make me a better swimmer, however had I know what I was in for I would have realised that this was a complete waste of time as there was no way that any technique apart from defense was going to keep me alive. The "biff" as it is referred to was far worse than I ever expected. I used to play water-polo when I was at school so I know what its like to fight in the water, but the start of this race was way way more aggressive than any of that. I guess it is to do with the sheer level of adrenaline and nerves that has built up in the 2,700 people. Months of training and then we all go at the same time. I don't think there is anything they can do to make it better, I guess it is just a question of HTFU but it was pretty intense and it wasn't until the final loop that it seemed to even out. Perhaps I should have started in a different pen and been more confident in my ability, but once it was all over I checked my watch and was surprised to see a 1:03 swim time as I felt like it had taken me a lot longer.
On to T1 and time to stick on my bike jersey, plenty of suncream and find my bike. Usually I clip my shoes to the bike and just jump on, doing them up as I peddle. But for some reason I had decided I would put them on in transition and run down to my bike. This was another mistake as the transition area was just so long and running in bike shoes is just ridiculous. T1 in 5:31, I had estimated 7mins in my head so was happy with that.
The bike course starts with a flat 20km'ish section out past the airport before turning inland to the mountains. I felt good, it wasn't too hot and this was it, I was cycling in an Ironman ! Then we hit the first climb. It wasn't particularly long, but it was steep, really steep. It was over before I knew it, but I knew there was more to come, so I didn't push myself too hard as we headed on to the col d'ecre. The climb starts at around 52km and just goes on and on and on. Although I have read a lot about this and been riding hills and been putting in some big gear sessions on the turbo over the past few months, nothing I had done even came close to what it actually felt like. I only wish I had come and checked it out before hand. I lost a lot of places during this section. I probably could have pushed myself harder, but by not knowing the course and finding it tougher than I expected I thought it best to try and reserve some energy. My stomach started cramping at this point in rebellion to the gels I was feeding it and I decided to give them a break for a while. When I finally made it to the top it was a relief and the rest of the ride was actually really enjoyable. The roads are really smooth and it is such a different experience to cycling in the UK. I made up a few places on the flatter sections but lost them again on some of the smaller climbs. Then came the downhill, and what an experience that was. Reaching speeds of 58km/hour was exhilarating. I was flying, but could not believe that there were still people that whizzed past me, crazy. I finally reached the bottom and started heading back to the airport, my stomach was starting to feel better now, but I had failed to eat 4 of the gels and 2 of the chewy bars I was planning on. I just didn't feel like it but maybe I should have stuffed them down to improve my energy and performance.
The first thing you notice as you get down from the mountains is the temperature. Suddenly the day had got hot and the wind was blowing right in my face like a hairdryer. I had chosen a TT bike and this was the only time I think it was an advantage. I made up lots of places on the last 20km and was not pushing hard at all. If I was racing again I would definitely take a road bike as seemed to be the preference of many of the field. Based on my training of the past few months I had estimated that a sub 6 hour ride would be possible, but after checking my watch on the top of that long climb I knew that this was out the window. I made the decision that starting the run feeling reasonable would be better than smacking myself on the bike to break 6 hours and so I arrived at T2 with 6:07 on the clock, relieved that it was over and I had survived with no crashes or punctures, but questioning if I could handle the heat and the run.
As you come into T2 a volunteer grabs your bike and racks it and off you go through the really long transition again. Now usually I would take my feet out of my bike shoes and just hop off, but again I decided to keep them on and ran along in my cleats, I guess I wasn't really thinking properly as this was not the best way to get through, but I got down to the end grabbed my bag, sun cream on, vest, vaseline, check and off we go onto the promenade. T2 done in 6:01
I had never run a marathon before this and my longest run in training had been 32km. I knew it was going to be hot and my plan was to try and keep running the whole time aiming to dip under 4 hours. I ran the first leg out to the airport, just grabbing drinks as I went and trying to swallow as much as I could. As I turned around and headed back to the finish I decided that this technique was just not going to work and I had to try a different approach if I was going to last the day. My new strategy was to walk the aid stations, allowing me time to actually drink the water/coke and grab something to eat. This approach was much better and I soon got into a rhythm of 1 cup of water over the head, a cup of coke and another water over the head on the way out, eating a banana or something every now and again. My stomach didn't seem to care what I through at it by this stage and I felt pretty lucky as I saw people in an awful state as the day wore on.
I tried to avoid the showers as people tended to just stand underneath them, and I was trying to keep moving as much as I could, I don't think there is any point in worrying about blisters and getting your feet wet as even if you do go around you still walk through water and get wet feet.
The first lap for me was probably mentally the worst. That dead leg feeling from transition meant I couldn't get my legs turning over as much as my head wanted them too and the prospect of 42.2km just seemed enormous. As soon as I collected the first band and turned to head back to the airport I instantly felt better knowing 10km was in the bank. I carried on running to each aid station, walking through as fast as possible and taking on fluid. The turnaround at the airport was a pretty miserable place. There are not many supporters down there, and with the shade and trees some of the competitors were using it as a toilet or just walking to stay out of the sun. I tried to keep my head down and keep moving and as soon as I could see the sea again it felt better each lap. The third lap finally came and went, at around 28km I started to get twinges on my calves every time I pushed a bit harder, sort of warning me they they would cramp if I tried to hard. So I slowed a little to make sure I could keep moving.
Then it was on to the final lap. This was great, each step of the way I kept telling myself that this is the last time I need to go through here or past this. My pace picked up and I found a rhythm to my running again. I turned at the airport and looked back down to the finish, looked at my watch, 20mins to break 4 hours. I knew this wasn't going to happen. Although my aim was simply to finish the Ironman, I had secretly hoped to break 11hours, but after the bike going slower than expected and the run slipping from me, I had resigned myself to a sub 12 goal. This seemed possible as long as I could keep the cramp away and just plod down to the end. My pace picked up, I carried on ticking things off as I went and before I knew it I was approaching the finishing chute. This was the moment I had been thinking about for months, all those times in training, all that preparation, I had tried to imagine what it would feel like to run down the chute after covering 3.9km swimming, 180km cycling and a 42km running. I thought I may be overcome with emotion as so many people had told me I would. But when I crossed the line I was numb, I was exhausted and my thoughts were on where can I lie down. Someone gave me a medal and shook my hand, I thanked them. I heard the words, "you are an Ironman" as I was running down the finish line, but I sort of felt like it was a dream. I had separated myself from my body somewhere on the run and was just lost inside my thoughts. I stumbled across the road into the finish area and found a bit of shade where I sat with my head in my hands. It was over, I was an Ironman. Marathon completed in 4hrs 9mins. Ironman finished in 11hr 31mins and 52secs. I placed 556th overall and 118th out of 363 that finished in my age group.
The enormity of what I had achieved didn't really kick in until we headed back to the finish line after a quick shower and a beer. The end of the Ironman was just electric and everyone was going crazy as the final people came down before the 16 hour cutoff. What is truly inspirational is just how diverse the mix of people are in this sport, during the build up I only really noticed the really lean, athletic and competitive types, but people from all walks of life, all ages were at the finish, all with one goal, to become an Ironman.
I understand around 2000 people finished that day out of around 2700 starters. I am really pleased with my result and it was always about getting to the finish line. The most satisfying result for me was raising £1090 for the British Red Cross. I never expected such generosity from my friends and family and it just goes to show that with effort and persistence it is possible to exceed your expectations. Whats next? ... a long rest and some time with the family. I would love to try and break the 11 hour mark but I think I'll try something a little flatter next time.... next time @!?!