myGA
General Assembly
myGA is an all-inclusive online learning platform with team management, progress tracking, reporting, diverse learning modules, and an assessment credentialing tool. As a Senior Software Engineer on the EdTech team at General Assembly, I played a pivotal role in refining various aspects of this robust EdTech solution, significantly enhancing the user experience. My primary responsibility was to ensure seamless compatibility across desktops, phones, and tablets, while adhering to WCAG AA accessibility standards.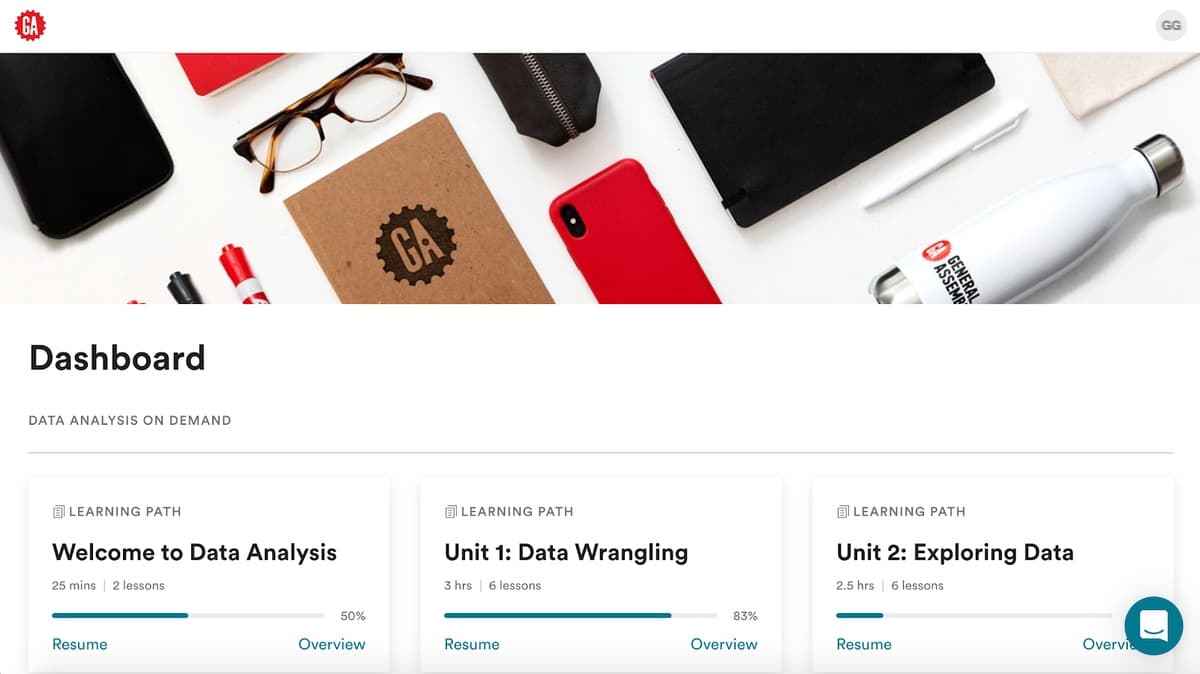 Embracing a Data-Driven Approach
Throughout the project, our team adopted a data-driven approach to gauge user impact and optimize the platform. We focused on tracking key metrics, such as:
User engagement: Measuring time spent on learning modules, module completion rates, and return visits.
Learning outcomes: Monitoring quiz scores, assessment performance, and improvement over time.
User satisfaction: Collecting feedback via surveys, ratings, and direct user interviews.
This data was instrumental in guiding our decision-making process for platform enhancements, enabling us to pinpoint areas where small adjustments could yield significant improvements in user experience.
Implementing High-Impact Changes
Informed by the data, we introduced several impactful modifications to the platform:
Streamlined navigation: We refined the user interface by simplifying menus and bolstering visual cues, reducing cognitive load and boosting user engagement and satisfaction.
Adaptive learning: We implemented personalized content recommendations based on users' past performance and progress, resulting in improved learning outcomes and heightened motivation.
Responsive design: We optimized the platform for different screen sizes and devices, guaranteeing a seamless learning experience for all users, regardless of their device preference.
Commitment to Continuous Improvement
Our data-driven approach enabled us to consistently iterate and enhance myGA. We established regular feedback loops with users and stakeholders to ensure we consistently addressed pressing needs and bolstered user impact.
Highlighting Standout Features
I took pride in developing several standout features that significantly elevated the user experience on myGA:
Assessments for tailoring content to individual needs.
Mentor Booking feature for connecting learners with experienced mentors for guidance and support.
Code Practice sessions offering a dedicated environment for applying and refining coding skills.
Knowledge Checks & Quizzes for reinforcing learning and gauging understanding.
Progress Tracking functionality for providing users an overview of their achievements, fostering motivation and awareness throughout their learning journey.
Collaborating with the exceptional EdTech team was an invaluable experience that sharpened my problem-solving abilities at both macro and micro levels, and I'm deeply grateful for the opportunity.