I am a Marshman ! perhaps not quite as an impressive title as Ironman, but a title none the less. Some of you reading this may be thinking what the hell is the Marshman ? It is a half ironman race or "middle distance" race held in Kent near a town called Lydd. This is a smallish race that many people use as a build up for the longer Iron distance races they have signed up to later in the year, so I felt right at home with all the other nutcases that were there "testing" their fitness.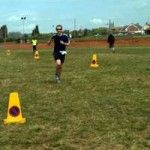 One of the best things about this race is that they offer free camping in the HQ field which means you can wake up on race day and just roll on to the start line. It was the first time this year that my tent has been out and it was good to spend a night in the fresh air. The facilities are basic but they did have some very posh toilet blocks bought in for the race weekend.
My wave started at 7am and the swim was an "M" shaped loop of the lake at Action Watersports. There was only about 70 people or so in my start wave but it was one of the most aggressive starts I think I have ever experienced. At one point somebody grabbed both my legs and started pulling me backwards ? After about 500 meters it started to spread out a bit and not looking too far ahead I felt like had lost touch with the majority of swimmers. As I got out of the water I checked my time, 30mins - ish. I was happy with that but a bit frustrated I hadn't dipped under 30, always striving to be better ! Looking back at the result this put me in 23rd so not as bad as I had first thought.
I spent a little longer in transition than normal as I decided to change into a bike jersey rather than wear a full tri suit. This is how I plan to race IM France so thought this was a good time to practice but it did put an extra 30-40 secs on my normal transition time. I tried to hold back a little on the start of the bike, but with the course being so flat and me being used to riding around the south downs I got a little carried away at the start and managed to catch up to a few people. The course was not exactly inspiring, however if your looking for a fast route then this is certainly the place to be. It was a case of head down and just go for it. Frustratingly there were a few times where signs were not clear or they just weren't there. I kept on, but on more than one occasion I felt that I had gone wrong and was off course. Eventually I would hit a junction with a marshall and was relieved to know I was going the right way. Looping back into Lydd (I think that is where we were?) you end up going around a wind farm, and they don't build those for no reason. I think this was about 60-70 km into the course and it did kind of knock me for six. My pace slowed and a few people caught back up to me but I managed to just about keep them in site until we got back into T2. My bike spilit was 2:30:38. Thios worked out at average speed of 36km/h, which is way above my IM pace but as I said this was a very flat course.
T2 was alright, however I made the mistake of taking my feet out my shoes before I got off the bike. They had carpeted transition but perhaps my feet have gone a bit soft as it was like walking across hot coals as I tip toed to my spot. I switched tops again and put on my socks and shoes, again a little slower than normal but this is how I intend to race France. Then it was out for the run. My legs just didn't want to play and although I didn't feel that tired mentally I just couldn't get my legs to turn over for the first 5km. I got a few niggles in my hips and was worried about my calf injury coming back, but by 6km I started to feel alright, although plodding along rather sluggishly. 3 of the 4 people that came out of transition around the same time of me disappeared off into the distance and I spent the majority of the run on my own. 2 guys came rocketing past me and must have done a very impressive run split if they held that pace. The course was along country lanes and a little bit of track and overall was pretty good. There were a few water stations and I doused myself in bottles of cold water to freshen myself up. As I turned into the finish chute I saw Camilla and the girls who had managed to drive down that morning to see me finish. I was great to hear them cheering and see them smiling as I crossed the finishing line, thanks for coming girls! Run over in 1:38:51.
So overall my total time was 4:43:23 putting me in 22nd place out of 192 finishers and 9th in my age group. I was aiming for a 5:15 finish so was thrilled with that time, although looking at the results now if I had only gone 2 mins quicker I could have placed 20th! The thought of doing twice this distance in a little over 6 weeks time is very daunting. I don't feel too bad about the swim and the bike, but a marathon at the end is going to be tough, really tough. Its back to training tomorrow and focus is long distance over the next few weeks.
The Marshman is a great race and for anyone that is looking for an early season "middle distance" race highly recommended.