Summer is officially over ! What a wet week it has been, the prospect of winter training has now hit home and long cold wet days are looming ahead for my brutal winter training plan.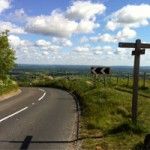 Overall this week was a successful one and whilst I didn't make it to the New Forest Sportive that I had been planning to cycle for about 6 months , I did manage to cycle my longest distance to date, achieving the Ironman bike section distance of 180 kms. The last few weeks have been all about the bike in the run up to getting this distance done. Mentally I needed to complete this so I knew what lies ahead in the Ironman event, but phyiscally it has been quite demanding.
Saturdays long ride was split into 3 sections, the first a sort of excitement, full of enthusiasm as I headed down to Brighton. I have cycled enough over the last few weeks that 50-60km doesn't feel too bad, I felt great during this time, also the weather was reasonable (not raining) so I was cruising along without concern. As I got into Brighton I took a quick picture and ate a banana before heading up the infamous ditchling beacon (ascending from the easier Brighton way). At this point the rain started and did not stop for about 24 hours. It was similar to tropical rain, relentless , hard and heavy but surprisingly not cold , although that could be because I was exerting so much energy cycling up a bloody big hill. Down the other side and into ditchling itself - here's where it really started going wrong, I ended up doing a little detour to Burgess Hill (not in the plan) and eventually realised where I was and turned around. Just as I got back on track I punctured, usually I would be furious but I actually welcomed the break and changed the tube in a calm mature way. Back on the bike, the rain still beating down I started to think about calling Camilla and just packing it in. But, something kept me going and as I got off the main roads and back into the Surrey country lanes I felt good again. This could have been something to do with an emergency stop for a snickers in Kirdford country stores - note to self , need to take more food with me. I sailed through Haslemere and was back at home before I knew it, some 6 and half hours after I started this epic journey.
As I had paced myself on this route I didn't feel too bad at the end of it - I couldn't really comprehend running a marathon tho , but I still have a lot of training to do before then. The purpose was to cycle the distance and I managed that and stayed in one piece. I think I could have gone faster if it wasn't raining , I knew where I was going and I pushed myself, but at the end of the day it felt like an accomplishment to me just to do the distance.
I plan to take this week a little easier to allow my body to absorb the last 3 weeks training and then get stuck into some Run based weeks. With the Winter Ballbuster coming up soon I think some hill training is in order !